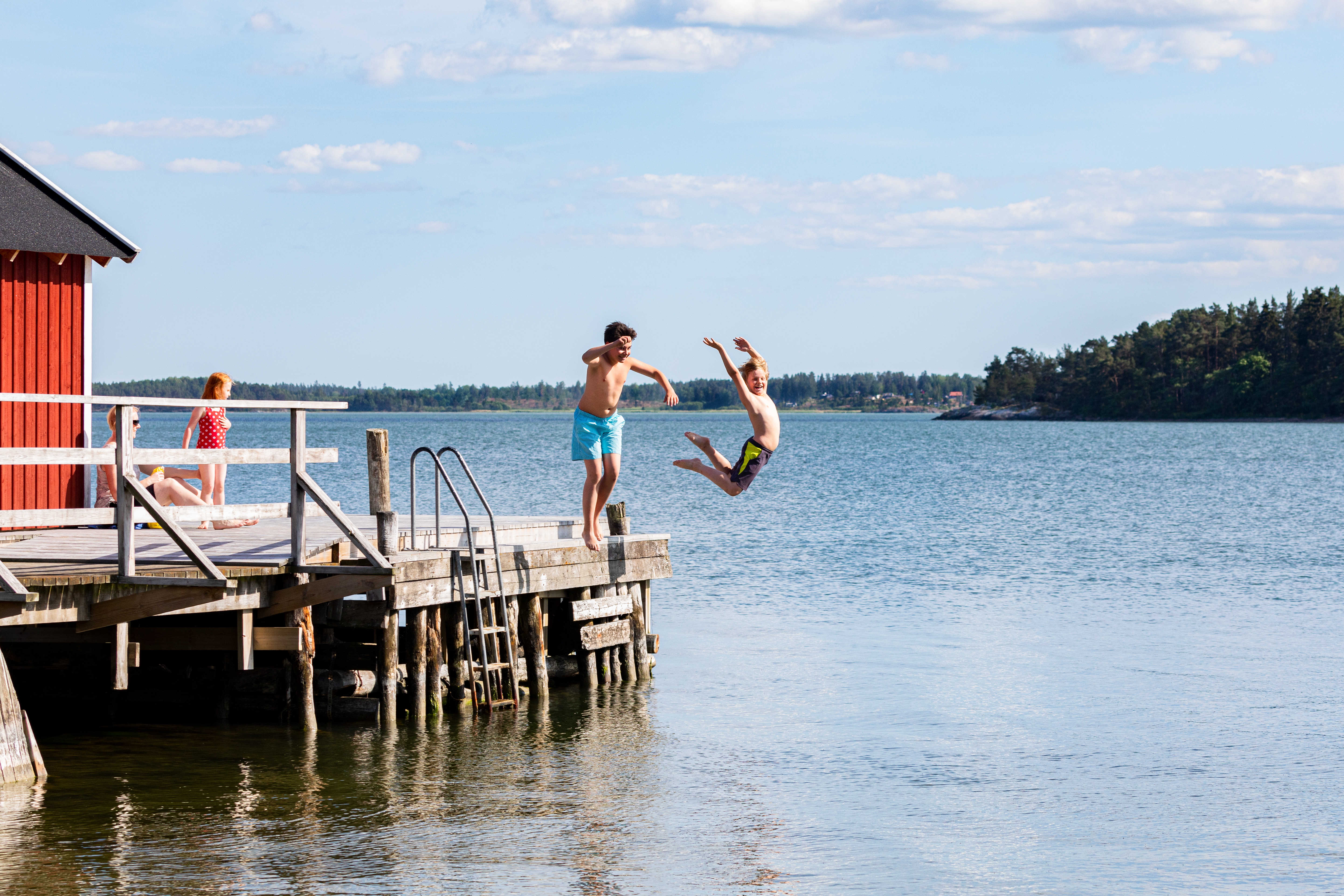 Southern Sweden, often refererad to as the countryside, has a lot to do and see. People come to the south to create unforgettable new memories, and to escape from the daily hustle. It is a place filled with friendly locals, stunning scenery, fantastic food and much more. We have listed 12 recommended things to do in southern Sweden. There is something for everyone.
1. Moose safari
What is the national animal of Sweden? Many will say it is the mighty moose or elk and they would be right! The king of the forest is indeed one of the national animals, the other being the common blackbird. Sweden has around 400,000 moose and with so many moose around, there are many opportunities to see them.
However, spotting a wild moose can be difficult. You h to wake up early in the morning and hike deep into the forests. The good news is that there are many moose parks and wild moose safaris, which almost can guarantee you an encounter with the majestic animal.
2. Golf
Sweden has some of the legendary golfers in the world, such as Henrik Stenson and Annika Sörenstam. That is because Sweden has top quality golf courses, especially the ones in the south. You will not find any course greener and more imposing.
There are more than 200 courses in southern Sweden, for example Barsebäck GCC. Given Sweden's landscapes and topography, it is made for golf. Carve through giant forests, overcome lakes, and chip your way out of the white sandy pits, whilst enjoying the sunny weather and beautiful views.
3. Sauna and swim
Finnish people are not only ones that love sauna. Swedish people are also about the sauna culture and are quite picky when it comes to proper sauna experience. The most popular form of sauna is a wood burning floating sauna on the lake.
The tradition is to collect wood to burn, relax in the sauna for a bit, and then jump into the lake to cool down. Take a short swim and back into the sauna you go. If you didn't collect enough wood, you would then have to go on land and chop some more. It is one of the things to do that you must try at least once.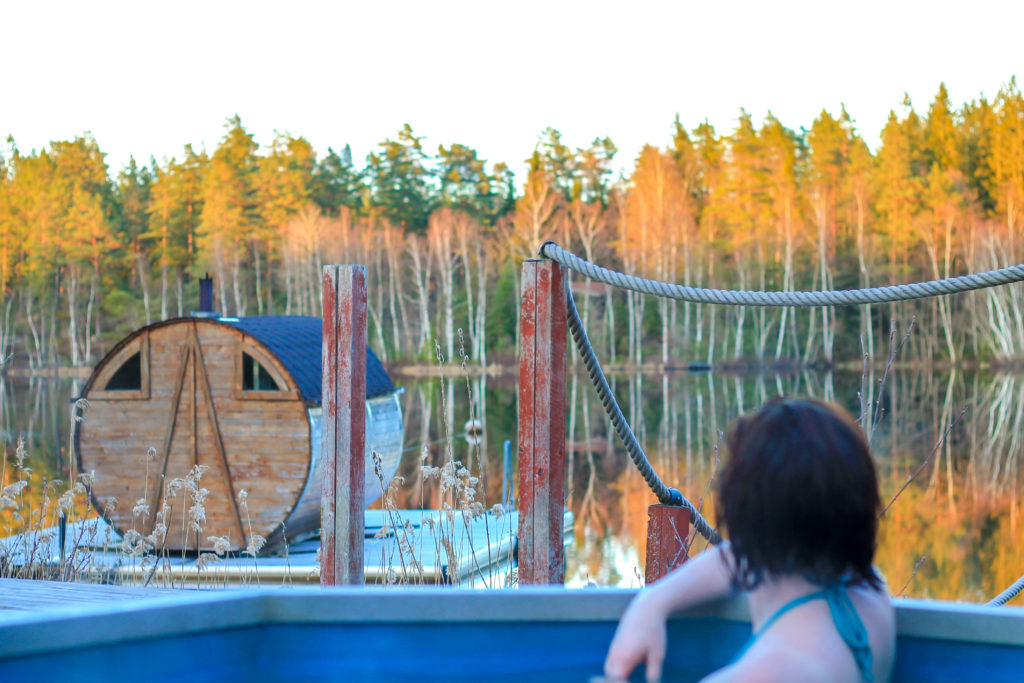 4. Kayaking, canoeing, rafting and paddle boarding
There are hundreds of lakes of different sizes in Sweden. The Swedish lake district, Boshulän, offers all kinds of water activity, such as canoeing, kayaking, rafting and paddle boarding. Most camps and farms near a lake would have some sort of boat tour or rentals.
Paddling against water is a great way to improve your upper body strength, and you get plenty of vitamin D just by drifting along. See beautiful sceneries that can't be seen from land and watch the world from another perspective.
5. Go fishing on a lake
Fishing is one of the most common outdoor activity in southern Sweden. In fact, you can find a fishing spot every couple hundred meters. Anyone can easily join in on the fun, and you don't even have to bring your own equipment. You can rent them in a nearby shop, camp or farm!
Rent a row boat and enjoy the day on the peaceful lake until you get a bite. In Sweden, most places practice catch and release, but you can still get an awesome photo with your catch!
6. Explore a hiking trail
Hiking is a very relaxing activity; it clears your mind and you get a decent workout too. Southern Sweden has hundreds of unique hiking trails for different levels of exercise. Surrounding yourself in nature can reduce stress, calms anxiety, and even lowering the risk of depression.
It all depends on your physical ability, whether you can hike deep into the forest or to the top of mountains. You can also go on a casual hike to pick wild mushrooms and berries. Especially during the rainy season, there are plenty of wild mushrooms and berries waiting for you.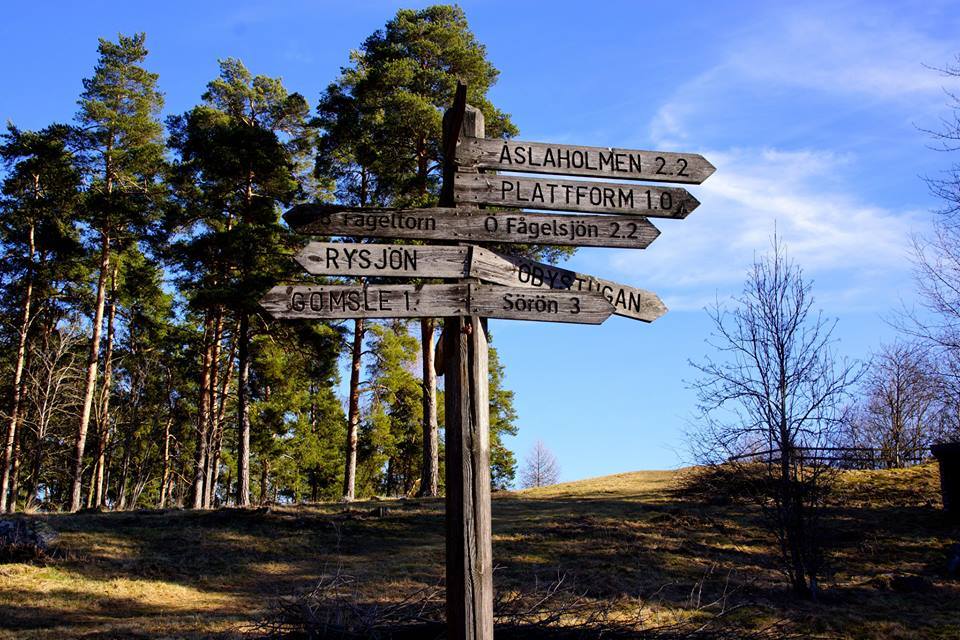 7. Horse riding
Live out your cowboy or cowgirl dream and learn to ride a horse in the vast open fields. Knowing how to ride a horse is one the most tough skills you can have. Ride with a guide or freely across the farmland.
Most farms have horse-riding experiences. In fact, many farms even offer a horse-riding holiday! Stay on a farm and ride horses every day. You will never get bored and the locals can even show you exciting places to ride to.
8. Biking tours
One of the most popular things to do in the countryside is to bike along lakes or through forests to explore nearby towns and villages. You will get to see views that you would otherwise miss on a drive. South of Sweden is quite flat, making it a biking paradise.
There are different routes to choose from depending on your experience. Some of them will take you onto different surfaces, such as from gravel to dirt roads. These routes tend to be long as well, so it is recommended that you be well-prepared.
9. Bird watching
Due to the geography of the south, bird watching is one of the most popular activities. For example, you could visit the Tåkern nature and bird reserve. The bird life is so rich in the area, making it a great place for birdwatching.
There are about 278 bird species living in the reserve, and about half of them nest near the lake Tåkern. In the reserve you might be able to spot black tern, eurasian bittern, western marsh harrier and great reed warbler.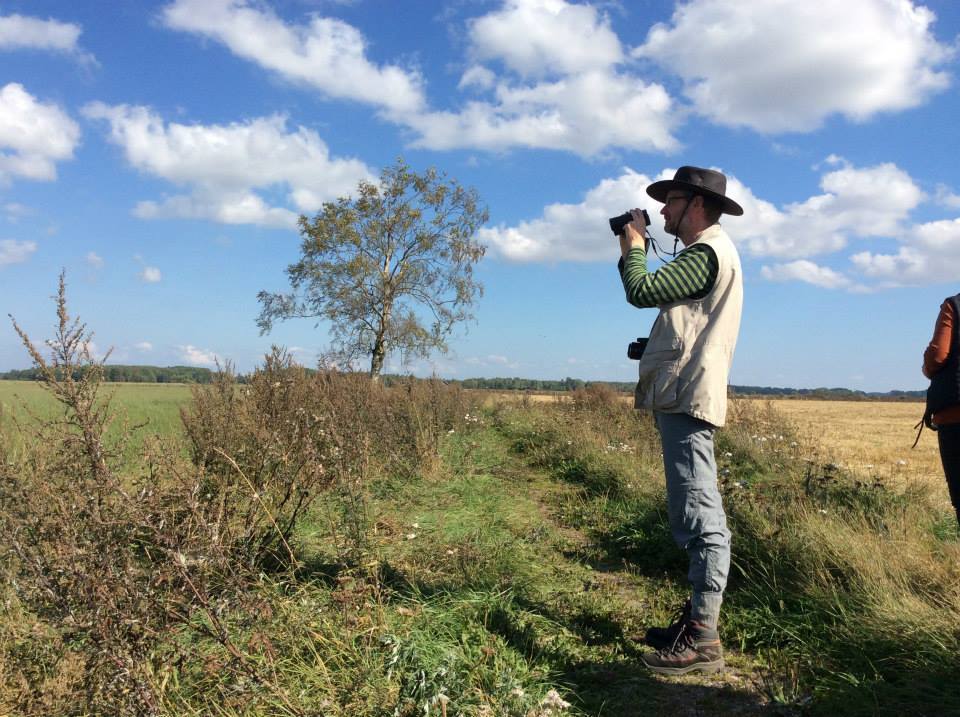 10. Rock climbing
When you think of countries with the best rock climbing, Sweden probably isn't the first place that comes to mind. Norway is more popular amongst rock climbers, with its steep mountains and deep fjords. However, Sweden also has excellent climbing spots, for example, Bohuslän offers some of the best trad climbing anywhere.
The people are friendlier. the prices are much more reasonable and the mountains are more kind to beginners. There are challenging surfaces for experienced climbers as well.
11. Join a glass blowing class
Traditional glass blowing is a declining art form, but glass factories changed south of Sweden's economy. Today, you can learn about this beautiful art form and try glass blowing yourself at the many glass factories or glass studios. The region of Emmaboda is famous for the exportation of glass and crystal products.
However, there are only a few classes per day, so we suggest you to contact the factory or studio and ask for more information. Alternatively, you can join a glass blowing demonstration, which doesn't require prior booking.
12. Learn aquaponic/hydroponic gardening
Gardening is not something that comes to mind right away when you think about things to do. However, it is a unique opportunity to learn more about it from experienced farmers. For example, get to know about aquaponic or hydroponic gardening, which is becoming a trend in suburban homes.
Attend a short course to see how you can start or improve your indoor or outdoor home garden. Gardening relaxes your mind and body, as well as using homegrown ingredients in your cooking just feels healthier.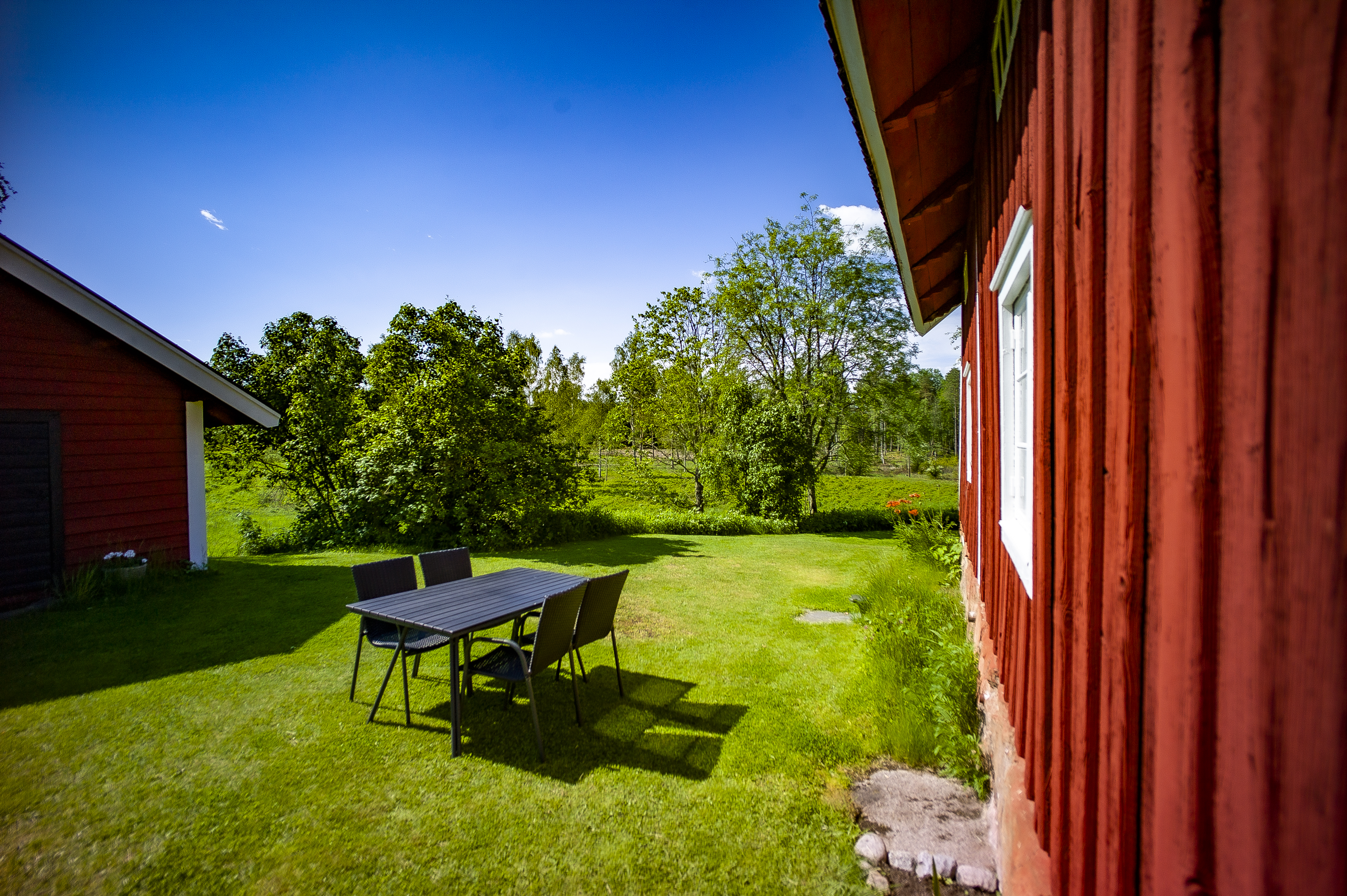 Southern Sweden is well-known to the city folks as 'the countryside'. Most people travel to the south for the vast open green fields, dense forests, plentiful lakes, local traditional events and unique foods. The largest southern region is called Småland. In fact, the typical Swedish red cabins you see everywhere is from there. We have listed the top 11 places to visit in southern Sweden that will blow your mind.
If you are looking for a break from Stockholm, but doesn't want the remoteness of Lapland, then the south is the perfect place for you, from urban cities to undisturbed nature. Nevertheless, we recommend that you drive in the south, as places are not that close to each other and the public transportation is not that great. Plan at least a couple of days to give yourself plenty of time exploring.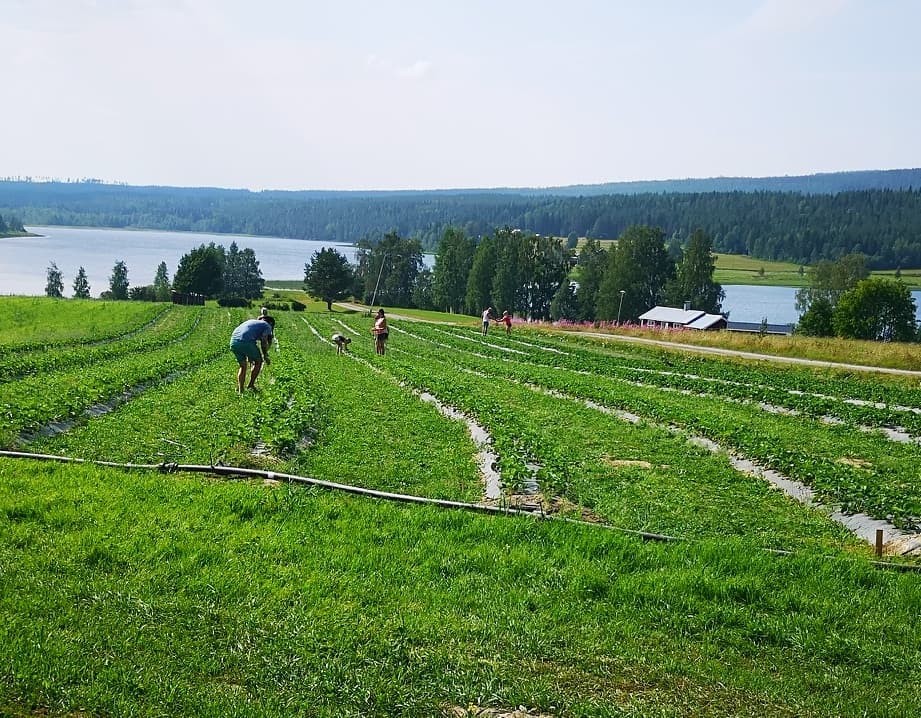 1.      Kingdom of Glass, Småland
For those wanting more than just nature, travel to the Kingdom of Glass (Glasriket) in southern Sweden. It is an area known for its glass blowing factories and crystal art. Some of the world's finest crystal and decorative glass comes from this region, mostly from Kosta Boda, Målerås or Orrefors area. This traditional art form is an important part of Swedish culture.
Many factories, such as Målerås, Kosta Boda and Orrefors, offer short glass blowing experiences and traditional 'Hyttsill' parties. Take the time to visit Småland, it is the holiday destination many Swedes escape to. Known for its beautiful countryside and glassworks, there are also many activities, such as canoeing, fishing, cycling, hiking, outdoor cooking, horse riding, climbing, golf and much more.
2.      Central Malmö
Surrounded by the countryside beauty of Skåne, Malmö is one of the most visited cities in Scandinavia, it is seen as an even more diverse city than Stockholm because of its closeness to Denmark. Many Swedes and Danes cross the famous Öresund bridge connecting the two countries daily for work and holiday. Half of the 7 km bridge is under water, so if you are driving to Denmark or Sweden, we recommend crossing it to see how majestic it is.
It is also one of the friendliest places for cyclists in southern Sweden, because of its flat surface and well-developed cycling paths. Bike around to explore the city and get some great exercise. As well as, make sure to stop at the brilliant modern architecture, the "Twisting Torso" skyscraper. Considered to be an architecture masterpiece, it is absolutely breath-taking with the blue sky as background.
3.      Åsnen National Park
Åsnen National Park is a very unique place with 75 percent of park being water. The small islands and archipelagos have different natural habitats and it is amazing to see the difference between them. Hiking through mature trees, mosses, fungi, and marshland deep in the coniferous forests will give you a sense of wonder like nothing else.
Th park is home to rare birds, plants and insects. Some of the species only exist in the park. It is truly one of the most unique sights of the world. Many can easily spend hours enjoying the breathtaking view and hoping from one island to another.
In the western part of the park you find 'Trollberget'. Commonly referred as a miniature Åsnen, because you will find everything the park has to offer in the small area.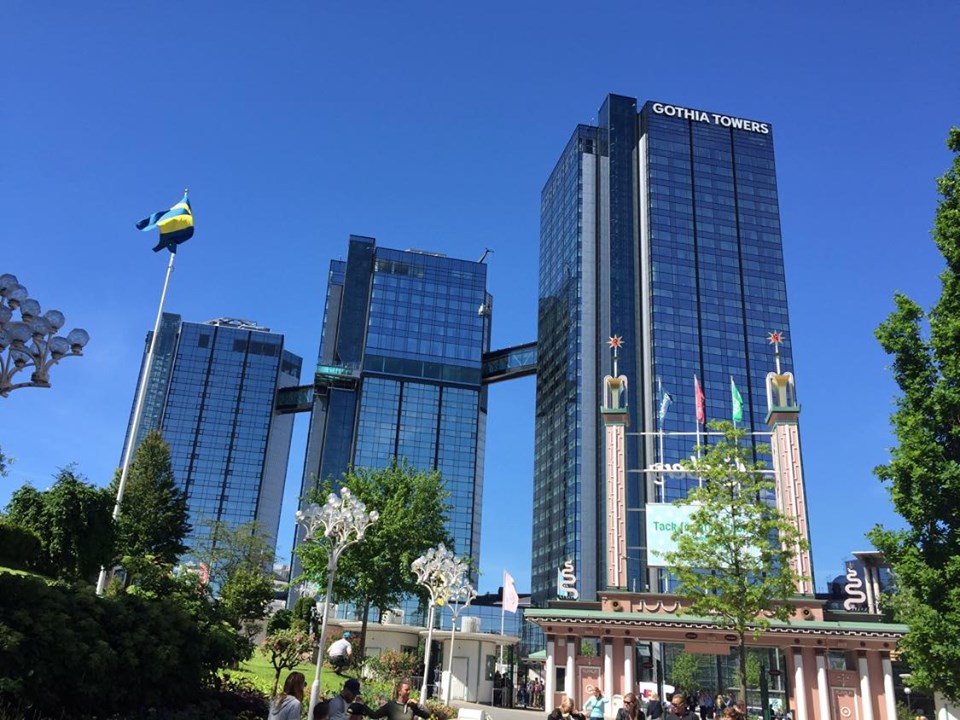 4.      Downtown Gothenburg
The home of Volvo and Scandinavia's largest amusement park, Liseberg, Gothenburg is known as a modernized urban city. Gothenburg is considered one of the most relaxing food focused cities in Scandinavia. Visit the many trendy cafés and restaurants to taste a large variety of both Swedish comfort food and high-end dishes.
The Volvo museum is definitely worth a visit. Volvo was the pioneer of many safety features of modern vehicles and is the people's car of Sweden. As well as, pay a visit to Liseberg and ride the wood roller coaster to experience some serious G-force. Despite being one of the largest cities in Scandinavia, its population is only one third of Stockholm. You will be in a big city without feeling too crowded.
5.      Dalsland Canal
Deep forests, high mountains, white beaches and the man-made Dalsland Canal makes Dalsland a magnificent place with beautiful views. There are many outdoor activities for you to enjoy, such as, fishing, paddling, hiking, swimming and petting moose.
Often one of the most overlooked attractions in southern Sweden. The canal is hidden between the forests, so you need to go on a boat tour to appreciate the 250 km long canal. Dalsland Canal passes lake Vänern and lake Stora Lee with fascinating view along the way. The canal was formed naturally by the last ice age, which created long deep rifts and was later excavated in 1860's to transport goods.
6.      Tjörn island, Bohuslän
Bohuslän is famous for being a kayaking paradise in Europe, as well as for the many rock-climbing spots in the area. The long west coast of Sweden extends all the way to the Norwegian border. There are more than 8,000 unique islands along the coast.
What makes this place so special is the distinctive orange-pink glow from the granite embedded in the rocks reflecting the sun light. It looks surreal and gives off a sci-fi feeling. The best spot to see this phenomenon is on one of the most popular islands, Tjörn. The island also offers great seafood dishes and other sea activities.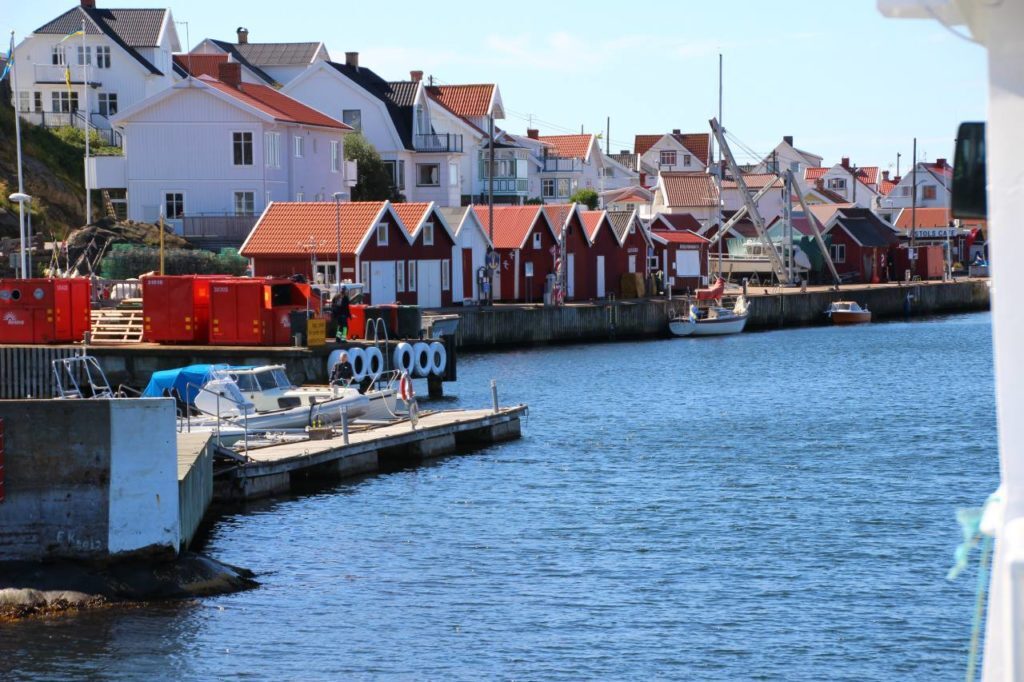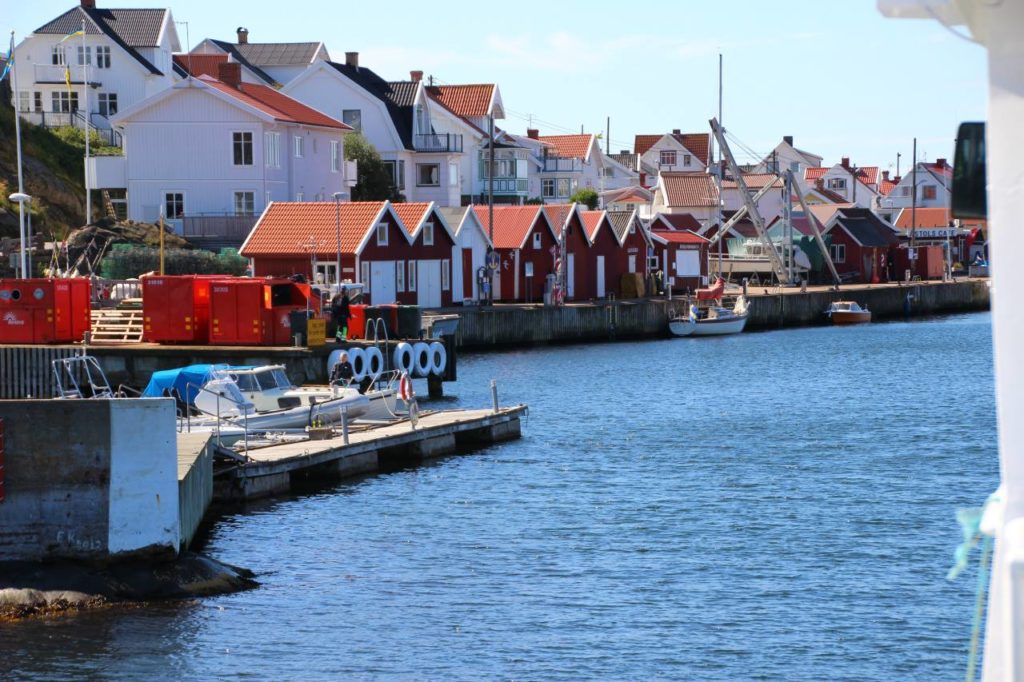 7.      Biosphere Reserve Area, Vättern
The UNESCO declared Biosphere Reserve Area is the perfect place to see lake Vättern. You can't find lake scenery as stunning anywhere else. Explore the untouched nature and wonders formed by the ice age. There are several nature reserves in the area, and most of them has activities you can do. For example, you can hike, canoeing, boat tours, paddle boarding, outdoor cooking and such.
As well as, check out Gränna, the birthplace of Polkagris candy, and take the ferry across to the island, Visingsö. You will find the Vista Kulle hill there, it has a fantastic view over Gränna or climb up the 144 steps of the Tegner Tower for an even better view and it is good exercise.
8.      Matchstick museum, Jönköping
Jönköping is a city in the middle of nature, and a major city next to lake Vättern. Jönköping is known for many things, including hosting the popular gaming event, Dreamhack. It is also home to one of the only three match museums in the world, the Matchstick Museum. Learn how Jönköping became the birth place of the safety match, and how it changed the economy of southern Sweden.
The museum is next to the shore in a large wooden building dating back to 1848. It tells the success story of becoming a global match production company. You will get to know the production processes of the time, including the use of child labour. In a model worker's apartment, you can also see the employees' living situation at that time.
9.      Ale Stones, Skåne
The Ale Stones is the Swedish Stonehenge, whereas some claim it is in a formation of a large ship, and others say it is connected to the moon. 59 large stones, each weighing around 1.8 tons, arranged to form a 67-meter-long oval shape. It is speculated to be from the Iron age.
It is Sweden's largest and well-preserved stone mystery located above the village of Kåserberga on the southern coast of Österlen. The Ale Stones is one of Skåne's most popular tourist attraction with its beautiful scenery and the lure of the unknown.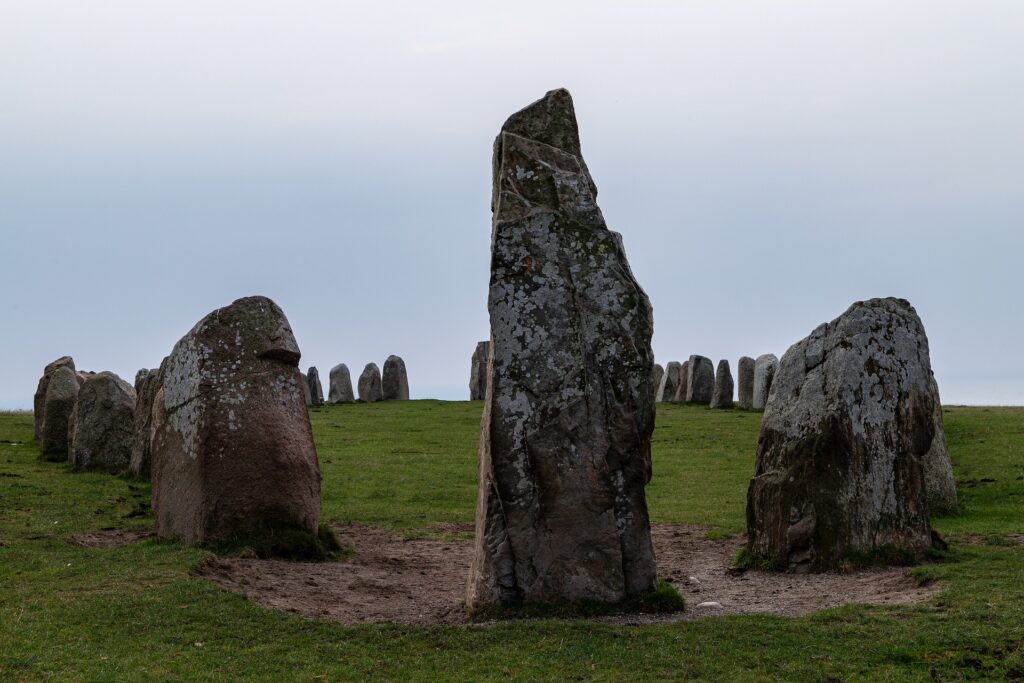 10.   Kalmar, Sweden
Kalmar is the perfect place for anyone interested in renaissance history. The city was one of Sweden's first line of defense against Denmark's advance to take control of the lands in 16th century. Therefore, Kalmar has many historical sites, and well-preserved buildings from the renaissance times. For example, the Kalmar castle is the best maintained renaissance castle in all of Europe.
However, Kalmar is also a coastal city, where you will find many parks and other places you can relax. You can cross the bridge to the long narrow island, Öland, and you be surrounded by sandy beaches, open fields, and thick green forests.
11.   Tresticklan National Park
Once you enter the Tresticklan National Park in Dalsland, you will be surrounded by three kilometers of uninterrupted and roadless forest in every direction. Choose any direction and you will reach a picturesque lake district.
For example, lake Stora Tresticklan is enclosed by wooded beaches, only leaving enough opening for the sunlight to shine through. Small ponds, formed through hundreds of years of rain, compliment the lake so well that you would not want to leave the view for hours.
There are many hiking options in the park, such as trails that will take you to steep ridges or trails with no incline throughout. All of the trails are well marked and are anywhere between 4 to 8 kilometers long.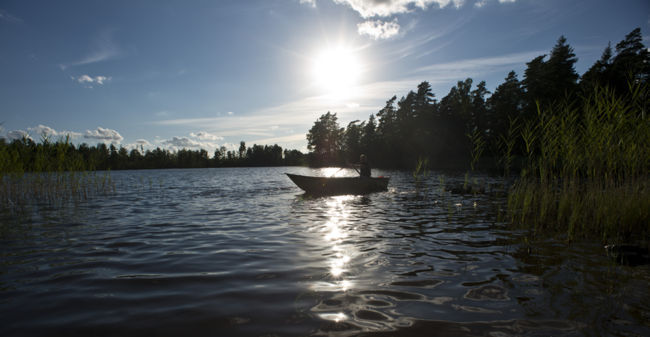 There are so many reasons why a solo staycation is the greatest. Maybe you want to take a break from your daily routines, don't want to travel far, have limited time, or because you can't go far. However, you may ask yourself, 'what to do on a staycation alone?'. Don't worry, we have complied a list of the top 10 things to do on a solo staycation.
Not only will you have the best time exploring and doing different things, but also you can help out the local economy during tough times!
Small local businesses rely on locals and tourists. When tourists are gone, they really need help from the locals, that includes you! Spending money on local businesses keeps the money in the community. It prevents a lot of small businesses going bankrupt.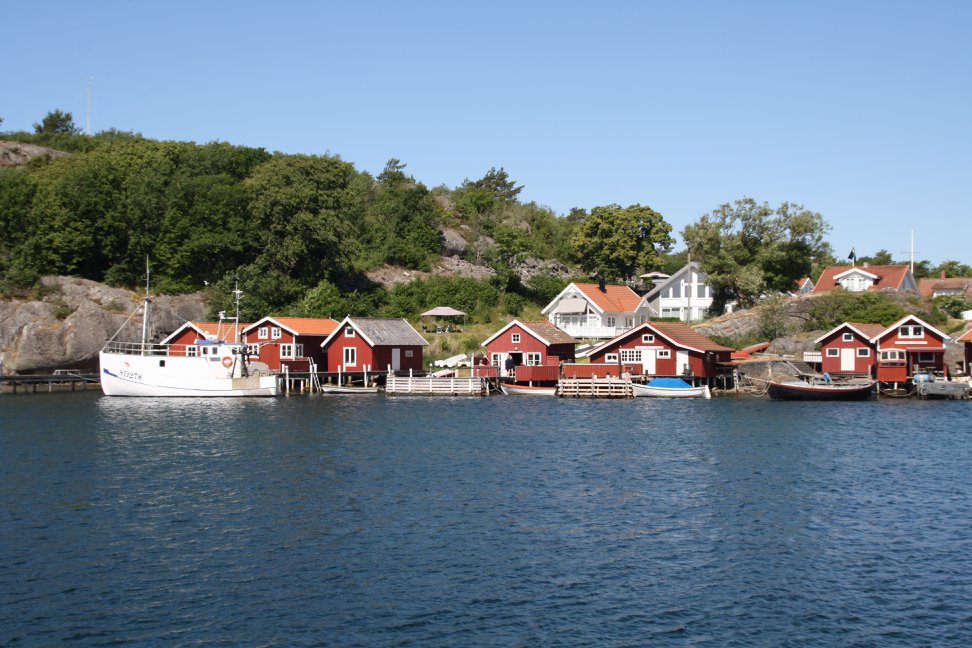 1. Take a day trip to other cities, towns or villages
You would be surprised how different close by places can be, especially smaller towns and villages. Get to know about the local traditions and culture of these places, as well as take in the breathtaking scenery. You will be surprised how much you will learn!
A staycation alone is the best time to explore your own country. Rediscover your home country and see your country with a new set of eyes. Hike around, take photos, learn about the local history and go to places you have never been to before. Take the time to enjoy a few days in another environment and culture.
2. Staycation at a cabin
Sometimes a staycation alone is as easy as staying in a cabin. Sometimes you just need to get away and stay in another environment. Maybe you just want to wake up to the sounds of birds singing and not car horns. Staying in a cabin wrapped in a comfy blanket and looking at the sunset outside your window is simply chilling.
A cabin could be your holiday home, somewhere you can escape to and forget about your troubles. Book on our website so you can save a bit of money while enjoying your cabin staycation.
3. Have a nature day
There is something about spending time in nature, getting away from city life and the daily hustle that makes you feel so good.
You will find yourself much calmer and happier when in nature. Enjoy a long hike, biking in the forests, or a wild swim in a lake. Be physically active for a few hours and maybe see something wonderful along the way, such as a moose!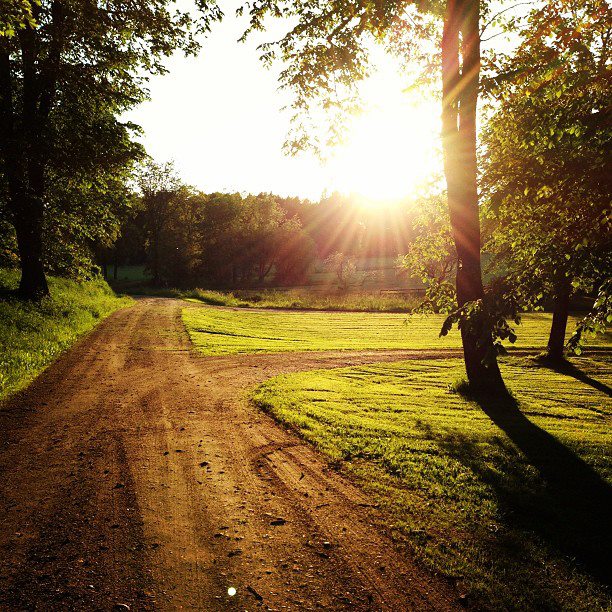 4. Sauna and spa
Who doesn't like a relaxing spa? Or decompress in a sauna? It may be one of the best solo staycation activities. Don't like facial? Then how about a full body massage. One of the most popular Swedish things to do is sauna. Nothing beats jumping into the lake after being in a floating wood burning sauna.
Renting a private sauna in the countryside is not expensive at all! You get to have it to yourself for the whole day, so you can go for a hike and then come back for a relaxing sauna.
5. Go on a road trip
A road trip is the best way to explore different places and do whatever you want to do. Unlike a group road trip, you decide when and where to stop. You are in complete control. You don't have to listen to music that's not your taste!
The idea is to drive around and explore somewhere new, do something exciting. If you are in Sweden, we have an article about the best road trips in the country!
6. Relax on a lake
What could be better than laying in a rowboat floating on the quiet lake with the sun shining on your face? Or go lake fishing in the most tranquil setting?
If there is a lake within driving distance, you might want to spend the day 'gone fishing' and clear your mind to de-stress. You will also get a healthy dose of vitamin D and you will feel less tired, as well as become more productive.
To enjoy a lovely day on the lake doesn't cost much either, and is preferred to be done on your own.
7. Do some landscape photography
You don't need a fancy camera to take amazing photos. Modern smartphones are capable enough, what you need is beautiful locations. Drive around to look for your ideal location, or read blogs about other people's finding. It might be something you never thought you would do, but trust us when we say it is great fun.
The best part about this is that you can do that anywhere and at any time. You can spend a whole day taking photos in your back garden, or just a couple of hours in an open field.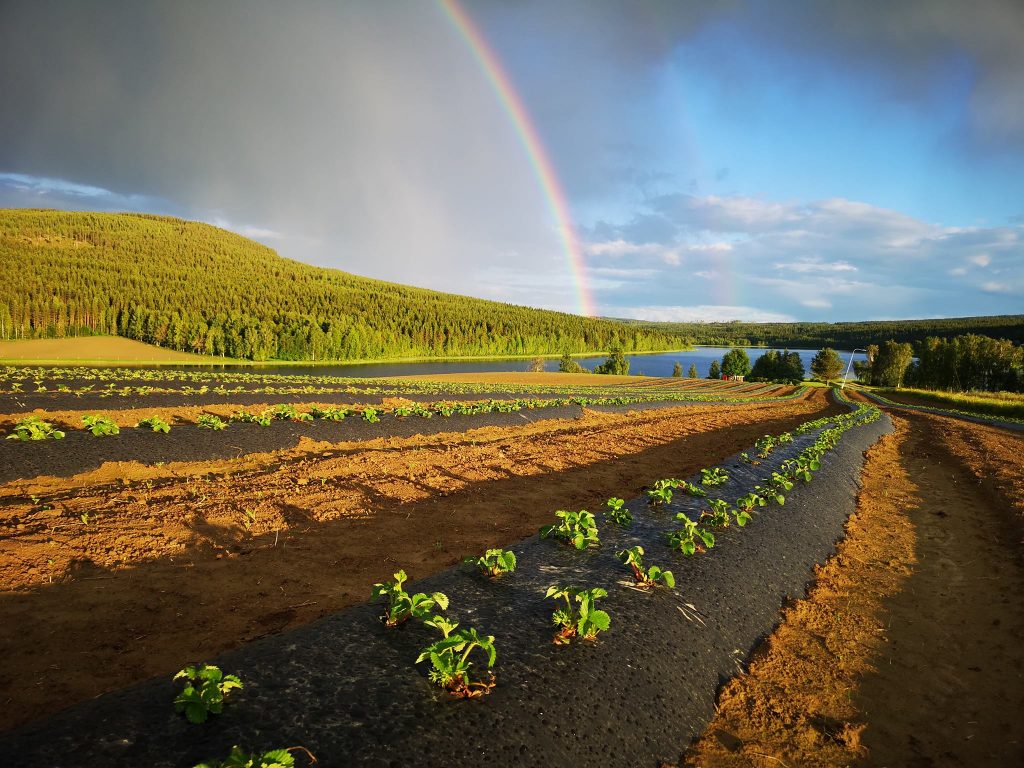 8. Try rural cuisine
One of our favourite things to do is to find new food to try. As many of us are secretly huge foodies, we are always on Instagram, Pinterest and food blogs looking for the next place to taste. Our conclusion is that the best and freshest foods tend to be in the countryside.
Sure, trendy or high-end restaurants are great, but it feels there is something missing. The difference is that rural cuisine is typically not seen elsewhere, because the recipes are self-developed or handed down through generations. So, you might get to taste a biochar burger for example.
This might be the perfect staycation alone idea for us foodies. Even though you are not into food that much, we still encourage you try new places and foods. Experience 'a taste of heaven' and discover the creativity of different dishes.
9. Attend a workshop or class
Why not use the time and learn a new skill? It is always one of those things you say "I really want to learn something new" but never get to it. Staycation alone would be the perfect time for it!
For example, learn to ride a horse, take an outdoor cooking class, or go on a beginner canoe tour. It is the perfect time to attend a longer class, and you may even gain a new hobby.
Do the thing you always wanted to do, and you can even do it online. Check your local area for ongoing classes, some might even be free, or go online and find tutorials.
For example, some of our farms offer workshops in bakery, how to grow things with aquaponics, and even fishing for beginners.
10. Join local events
Whether you live in a city or a small town, there are often local events happening around you. Events like concerts, open air shows, music events, food and cultural festivals, and such. For example, in Sweden, Dalarna has activities and events throughout summer.
Check your local website, blogs, or newspapers that detail all the upcoming events in your area. You can meet new people and experience the sense of a community. Many outdoor events don't have an entrance fee, and sometimes you can even get a goodie bag!