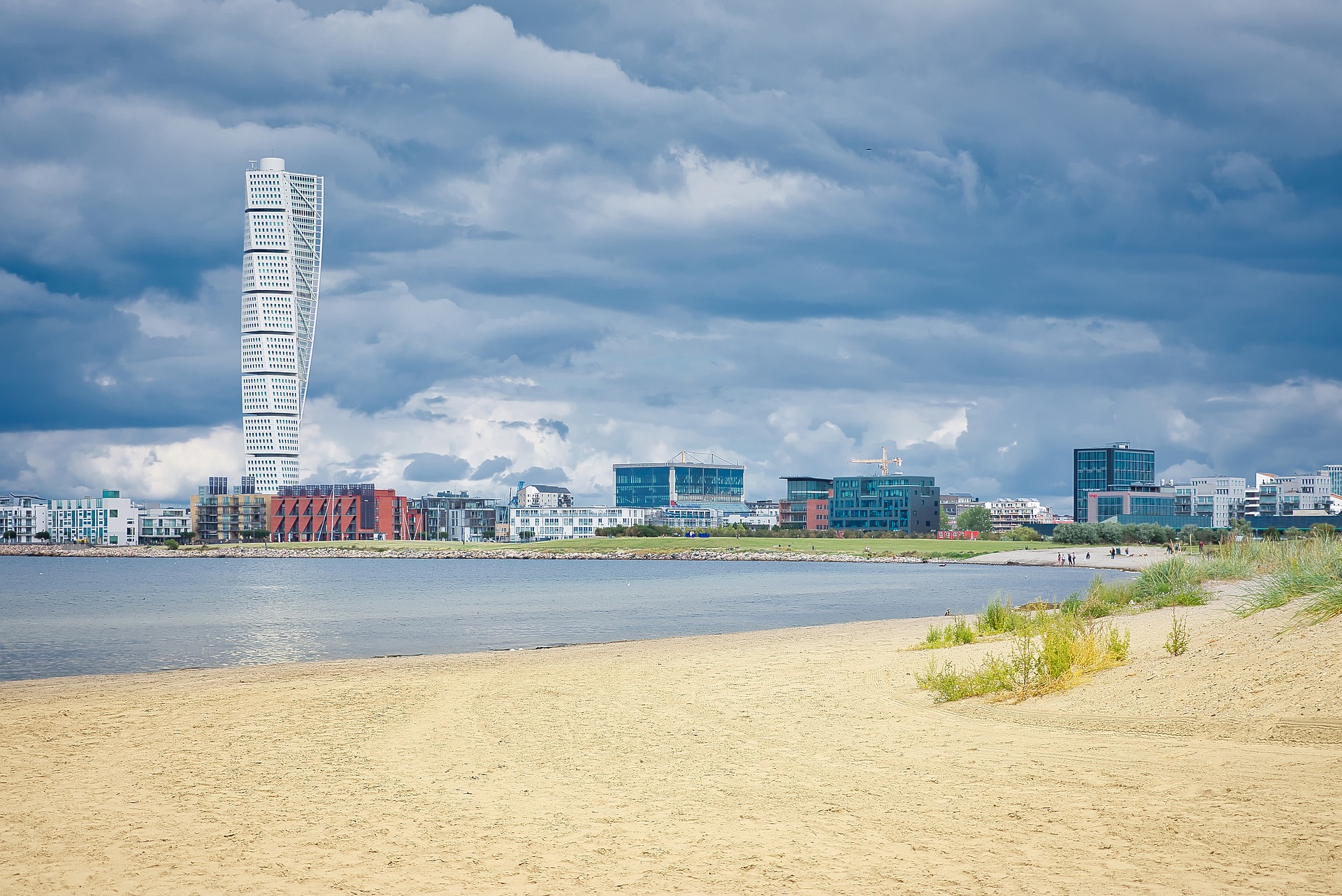 Sweden is a country that truly has it all. From picturesque landscapes and historical sites, to delicious cuisine and rich culture, there's something for everyone to enjoy. Looking for the perfect Sweden itinerary for 10 days? Look no further! We've put together the ultimate guide for exploring this beautiful country, including the best places to visit, things to do, and where to eat and stay.
With our help, you'll be able to make the most of your time in Sweden and create a trip you'll never forget. 10 days is plenty of time to explore and see the best of what this beautiful country has to offer.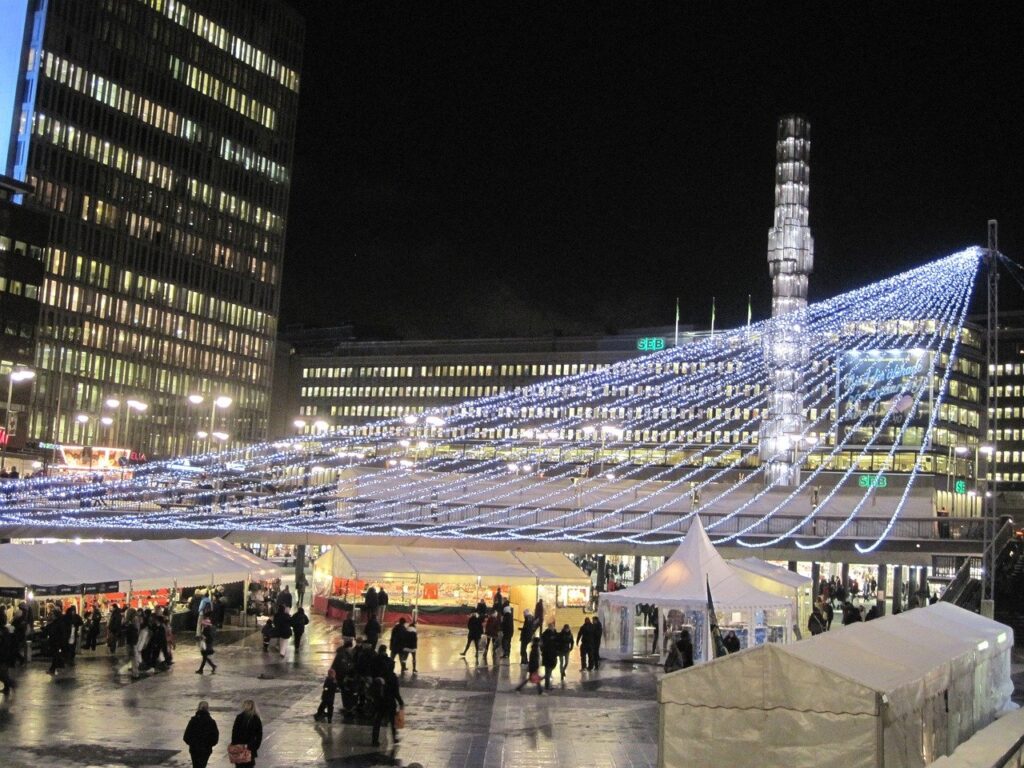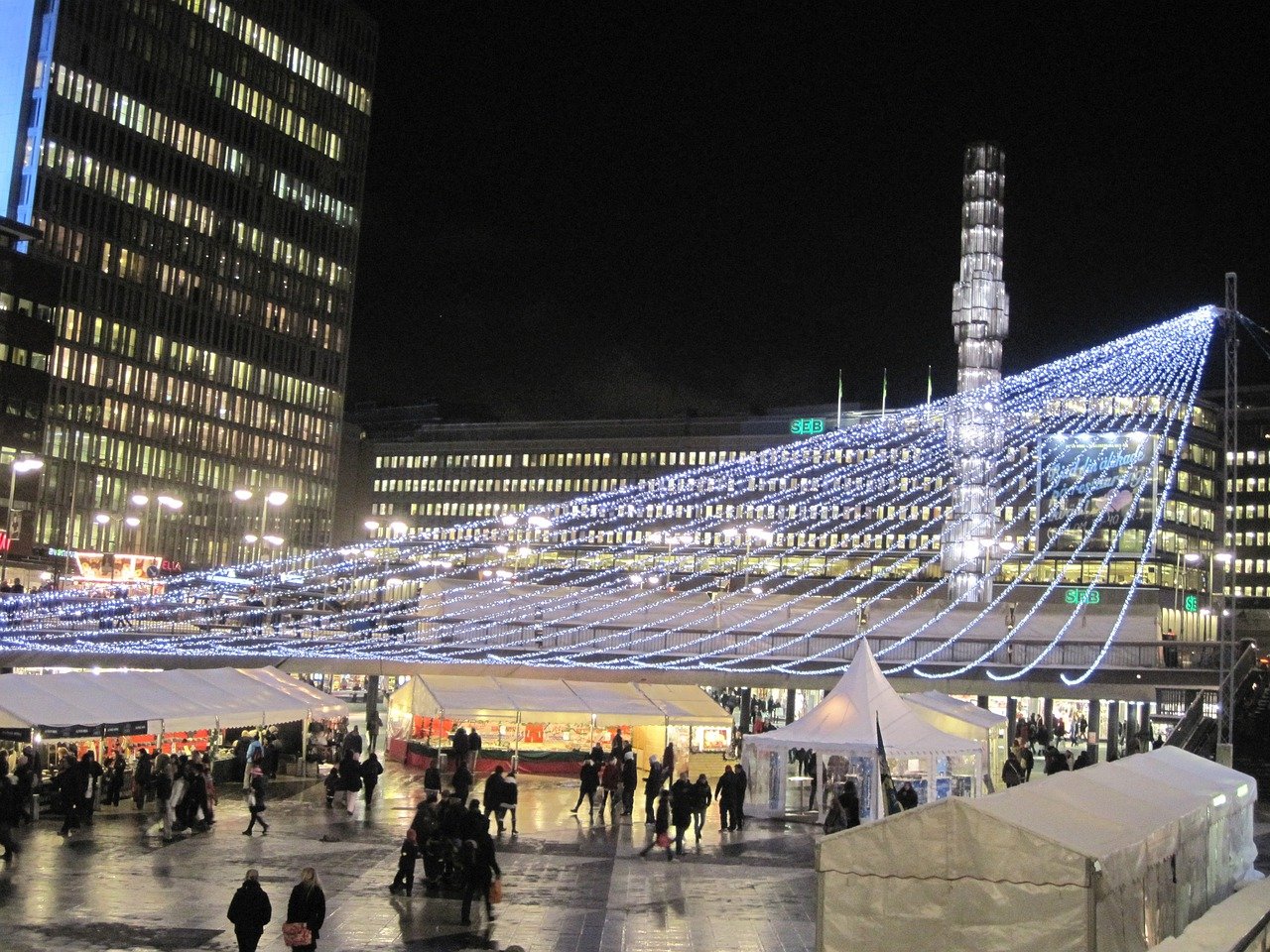 Day 1-2: Stockholm
Day 1:
Start your journey in the capital city of Stockholm, where you'll find a mix of heritage charm and modern city living. Begin by walking around Gamla Stan, the city's Old Town, where you'll find narrow cobblestone streets, colorful buildings, and a variety of tourist shops and restaurants. Don't miss the Royal Palace, Nobel Prize museum, the parliament buildings, and the Stockholm' medieval Cathedral (Storkyrkan), all located in Gamla Stan.
Next, cross the north bridge into the modern city center, where you will find Stockholm's City Hall to the left. Visit the gold and blue rooms, as well as climb the tower if you have the energy. After that, return to Drottninggatan, the queen's street, and it will take you through most of Stockholm's modern city center. There are plenty of shops, cafes, and restaurants along the way.
You can always join a guided historical rooftop tour, an archipelago kayak/canoe tour, or even boat tours for archipelago hopping.
Day 2:
Take the public transportation to Djurgården and visit the Vasa Museum, where you get to see a well-preserved 17th-century warship, Vasa, that sank shortly after setting sail in 1628. On the island, you can also visit the Abba museum, as well as Skansen, a family-friendly zoo and open-air museum.
If you're interested in photography, be sure to visit the Fotografiska, which houses large collections of modern and contemporary photography. You will need to purchase entrance tickets for all places.
Then head to Stockholm's Public Library and take a while to admire its architecture. Behind the library, climb up the hill, Observatorielunden, and you will get a fantastic view over the city next to an observatory.
Drottningholm Palace is a bit far from the city, however, the park is definitely worth a visit during summer. There you will find a Gothic Tower, Chinese Pavilion, fountains, gardens, and the 1600s royal residence.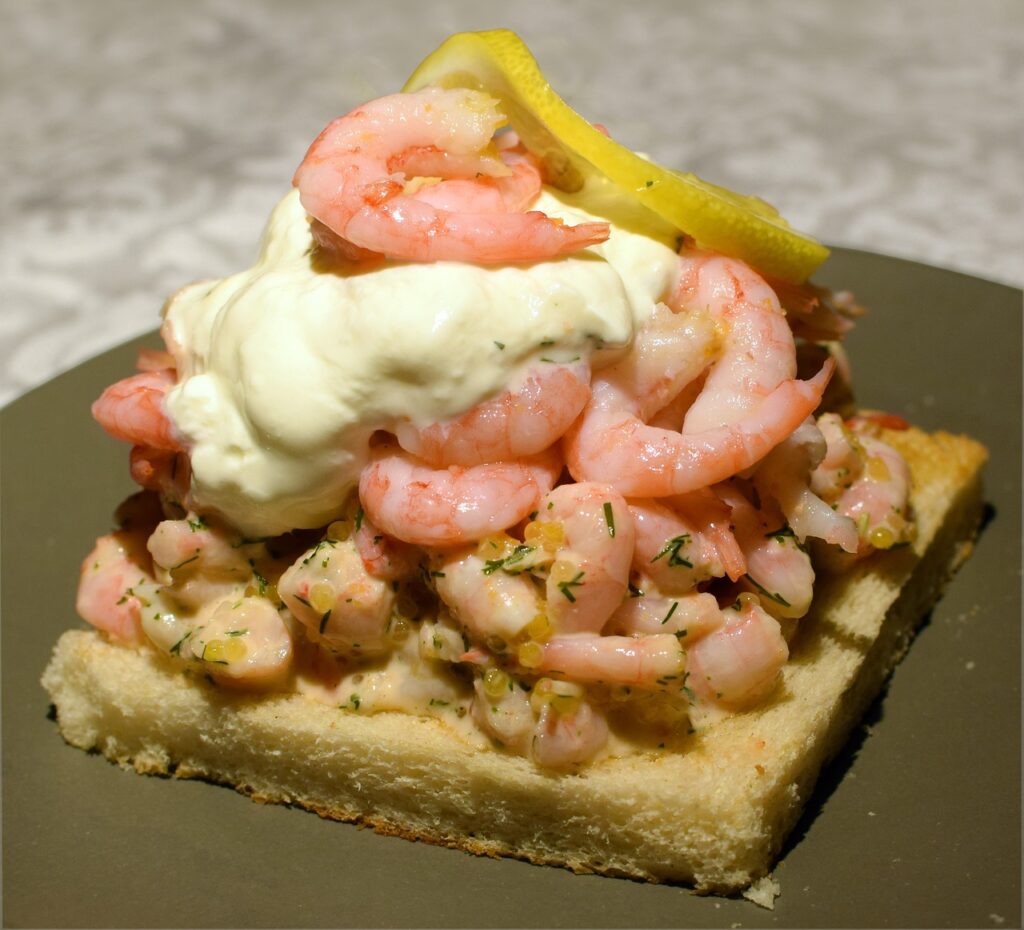 Where to stay
There are many hotels, hostels and Airbnbs in and around the city center. Norrmalm is the most convenient area to stay in, otherwise Södermalm would be the second-best choice.
What to eat
Obviously, most people know Sweden is famous for its meatballs and lingonberry sauce, however, there are more delicious traditional Swedish dishes than meatballs. For example, you should always look for Husmanskost, home cooking, menus. In Stockholm, you could try some S.O.S, (Butter, cheese and herring), toast Skagen (shrimp in mayo on toast), pytt i panna (diced potato, meat, and onions), and gravad lax (salmon) to say the least.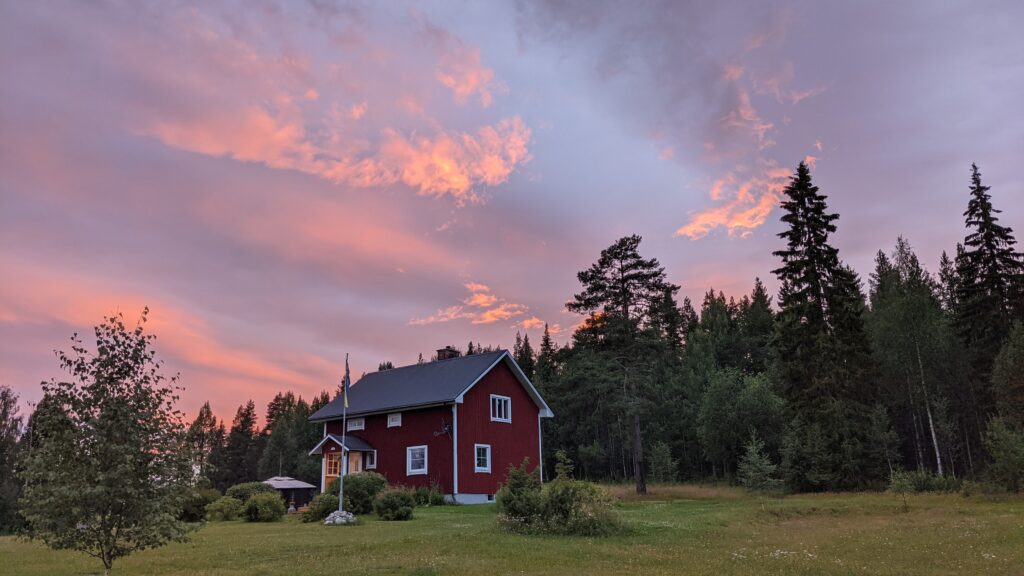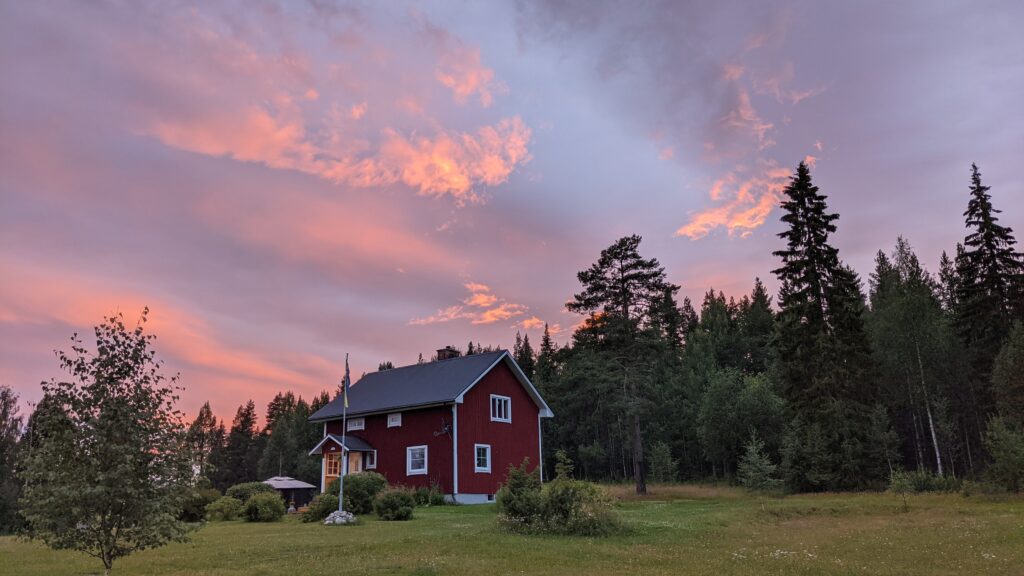 Day 3-5: Dalarna
Dalarna is a beautiful region in central Sweden, known for its red cabins, stunning natural landscapes, and unique cultural heritage. If you are driving, we suggest to stop by Uppsala first before continuing to Falun and Siljan. It takes around 4-5 hours' drive to get to Siljan.
Day 3:
Uppsala is known for its beautiful Uppsala Cathedral, which is the tallest church building in Scandinavia. Take a tour of the cathedral and climb to the top for stunning views of the city. Next, visit the Uppsala Castle, which dates back to the 16th century. The castle now houses a museum, where you can learn about the history of the castle and the city.
If you have time, take a walk through the picturesque Linnaeus Garden, Sweden's oldest botanical garden. You get to see a variety of plants and flowers.
Once in Falun, visit the Falun Copper Mine, which is one of the most significant cultural and historical attractions in Dalarna. The mine was in operation for hundreds of years, producing some of the finest copper in the world. Today, visitors can tour the mine and learn about its history, as well as the lives of the miners who worked there. The tour is a fascinating journey through time, and the scenery is breathtaking.
Day 4:
Explore the Dalarna Museum. It is a wonderful place to learn more about the history and culture of the region. The museum has a vast collection of artifacts and exhibits that showcase the lives of the people of Dalarna over the centuries. From traditional folk costumes and textiles to hand-carved wooden furniture and tools, the museum provides a fascinating glimpse into the past.
Afterwards, you can take a walk or drive through the countryside to see the famous Swedish red wooden cabins, known as Falu red houses. They are an iconic symbol of Sweden together with the Dalecarlian horse, a traditional carved and painted wooden statue of a horse originating in Dalarna. Most horses are handmade, which makes them a perfect souvenir to bring home.
One of the most fascinating things about Dalarna is its rich cultural heritage. The region is famous for its traditional folk music and dance, and many have the opportunity to experience these cultural treasures for themselves. There are numerous traditional folk festivals and events that take place throughout the year, so be sure to check the calendar to see what's happening during your visit. Or go on a guided tour to explore the area in depth.
Day 5:
Only 16 minutes away drive from Falun, you will find Carl Larsson-gården, Carl Larsson's garden, in Sundborn. It was formerly home to renowned and beloved Swedish artists Carl & Karin Larsson. Get to know their lives and their passion for art and design, as well as becoming one of the leaders of the Arts and Crafts movement in Sweden.
Drive for a little bit and you will reach lake Siljan, where there's many nature activities you can do, such as canoeing, fishing, hiking, cycling and such. Leksand, a town nearby, offers one of the most popular attractions in Dalarna, the Siljansbadet beach, particularly during the summer months. The beach is perfect for swimming, sunbathing, and picnicking, and the crystal-clear waters of the lake provide a stunning backdrop for your visit.
For more family friendly activity, you can also spend a day at Leksand Sommarland, a water park for all ages. Otherwise, take a stroll through the Tällberg Village. It is a charming and picturesque place located in the heart of Dalarna. The village is famous for its beautiful wooden homes and historic churches, as well as its scenic lakeside location.
When in Dalarna, it is all about relaxing and soak up the peaceful natural atmosphere. As well as, touring the local specialty shops.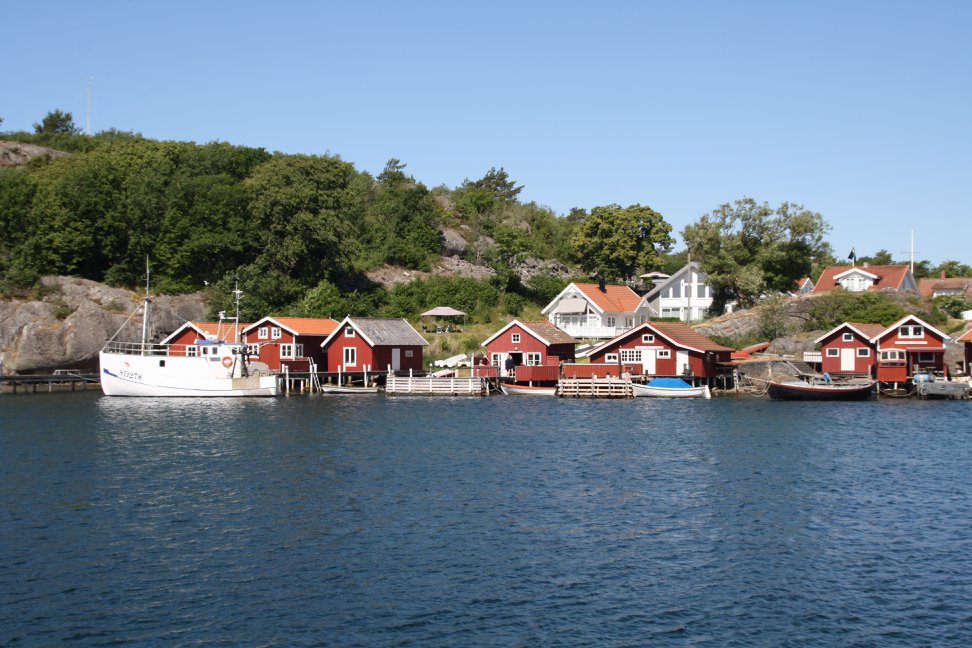 Where to stay
Since Dalarna is famous for its red cabins, we suggest you to stay in one and experience total tranquility. Most of the cabins are self-catered, meaning you are responsible for food and cleaning the cabin before you leave. It is on average more affordable than hotels.
What to eat
You need to taste Falukorv, sausage from Falu, as it is the most popular food in the region. There are many recipes, however, you usually eat it with potatoes. Of course, Leksands Knäckebröd, crisp bread from Leksand, is also another highlight. There also plenty of Regnbågen, Rainbow trout, and moose in the Dalarna, so you will find it on most menus.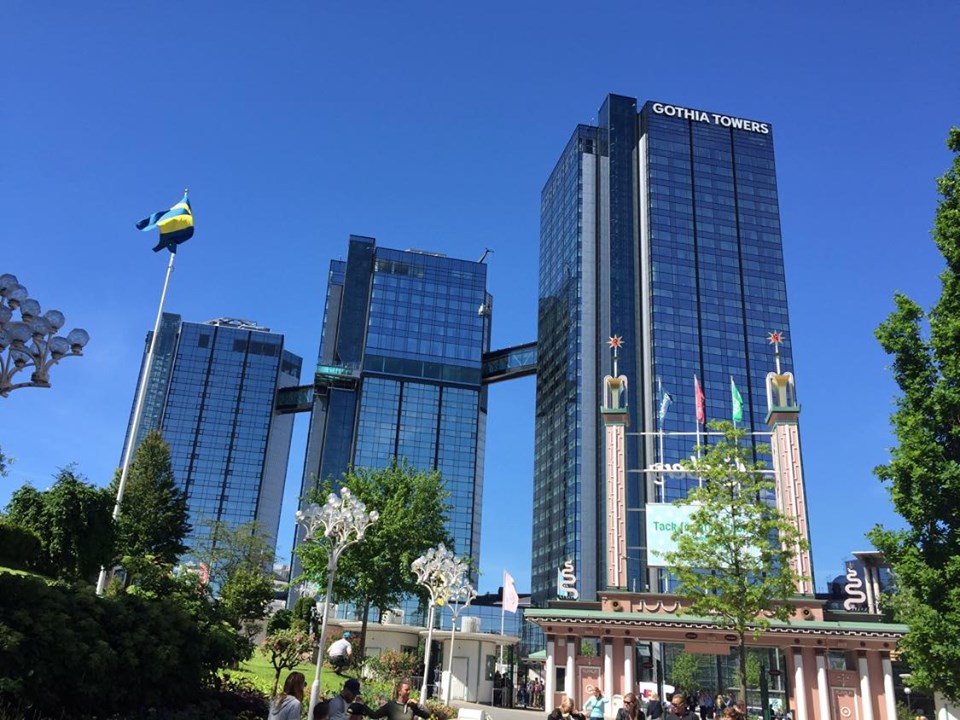 Day 6-7: Gothenburg and the West Coast
Drive, which takes around 6-7 hours, or take a train to the second-largest city in Sweden, Gothenburg, and visit the West Coast. The region is known for its lively modern atmosphere and delicious seafood. Gothenburg is a popular tourist destination for good reason. With its charming architecture, vibrant cultural scene, and stunning waterfront, there is no shortage of things to see and do.
Day 6:
Start by visiting Gothenburg's main attraction, the Volvo Museum. Gothenburg is the home of Volvo and the museum has an impressive collection of Volvos throughout history. You can learn about the Swedish car manufacture's history, how they invented the 3-point seat belt, and even see a scaled Volvo SUV made from Legos. You need to plan ahead since it is outside the city center.
Once you are back in the city center, for those looking for thrills can visit Liseberg Amusement Park. Ride the Balder, a wooden rollercoaster opened in 2003, and experience 10 negative G force. Or enjoy Helix, the longest rollercoaster in Scandinavia, with a top speed of 100 km/h and a G force of 4.3.
If you rather relax, then spend the day exploring the city's many parks and gardens. The Gothenburg Botanical Garden is a great place to start, as it has a wide range of plants and flowers from all over the world. Or head to Slottsskogen Park, a beautiful green oasis in the heart of the city. This park is the perfect place to take a break from the busy city life and enjoy a picnic, go for a walk, or simply relax on a bench and soak up the sun. There is also a park zoo where you'll be able to see moose, Gotland ponies, Gute sheep and other Nordic animals.
In the late afternoon or evening, head over to the Haga Neighborhood, one of Gothenburg's oldest and most picturesque areas. This neighborhood is known for its narrow, cobbled streets, traditional 17th century Swedish houses, and charming cafes and shops. Take a stroll through the streets and enjoy the sights, sounds, and smells of this beautiful area.
Day 7:
Since Gothenburg is known for its seafood, visit the Fish Market, Feskekörka, one of Gothenburg's most popular tourist attractions. This indoor market is a great place to sample some of Sweden's freshest seafood and try some of the local specialties. From smoked salmon to seafood soup, there's something for everyone.
There are also plenty of museums in Gothenburg, such as the Maritiman Museum (a unique museum dedicated to boats and ships), the Gothenburg Natural History Museum (exhibitions on everything from insects to dinosaurs), Gothenburg Museum of Art (features works by some of Sweden's most famous artists, and works by international artists), and Gothenburg City Museum (local history museum).
Otherwise, you can go explore the many archipelagos on the west coast. However, you'll need to prioritize and choose which islands to visit. There are over 20 islands in the archipelagos, each with its own unique charm. Some popular islands to consider include Smögen, Hönö, Marstrand, Tjörn, Orust and Fiskebackskil. Once you arrive at the islands, there are plenty of things to see and do. On almost every island, you can hike, bird-watch, go fishing, kayak, and swim, the possibilities are endless. Be sure the check the weather and ferry timetables beforehand.
Afterwards, visit the Götheborg of Sweden, a replica of the Swedish sailing ship Götheborg. It was an important ship for trading with Asia. The original ship sank off Gothenburg in 1745 about to return from its third voyage to China. Currently in 2023, the ship is undergoing repairs, so no visitors are allowed onboard.
Your last visit would be the Oscar Fredrik Church. A stunning neo-gothic styled church from the 1890s and got its name from King Oscar the Second.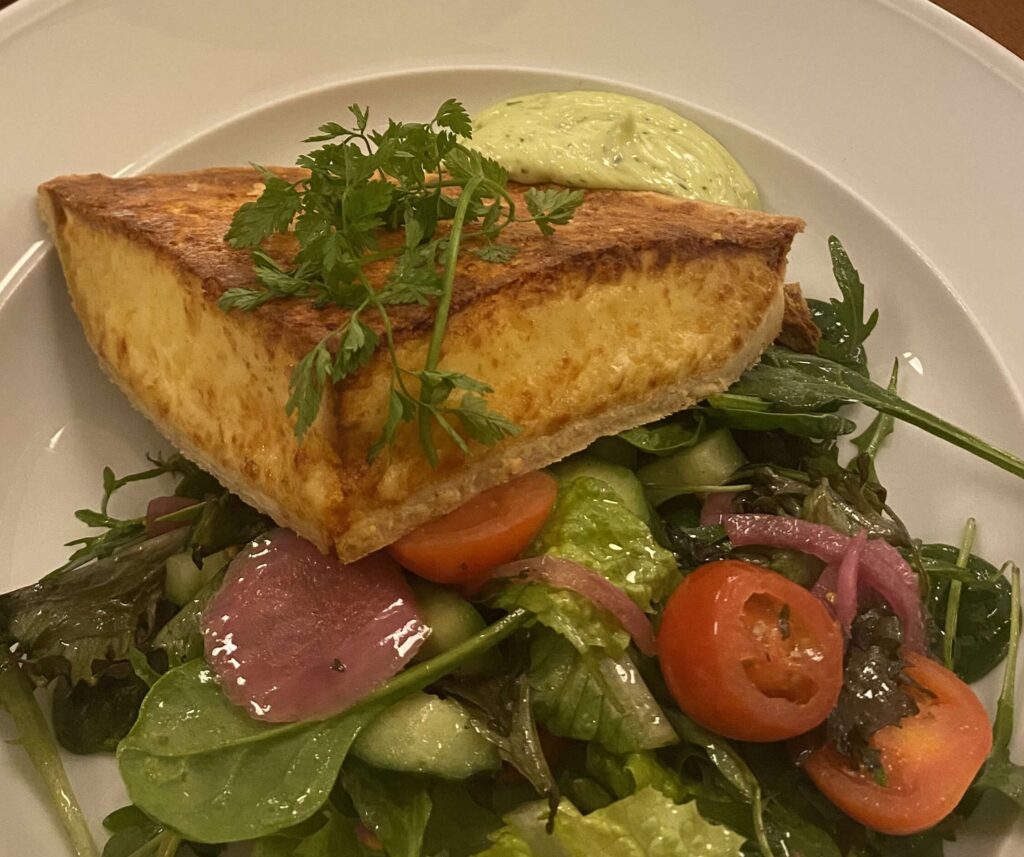 Where to stay
Just like Stockholm, there are many of hotels, hostels, and Airbnbs in Gothenburg. However, most of the city center surrounds the Göta canal. You can expand your search from there. Otherwise, you can stay in a cabin on one of the islands on the coast, though it is not easy to get on or off the island. Alternatively, you can choose a traditional bed and breakfast.
What to eat
Blåmusslor (Blue mussels), fisksoppa (Fish soup), Västbottenpaj (Cheese pie) are must try dishes. The west coast is next to the sea, so you will find many seafood dishes. There are different kinds of fish soup, but usually it includes fish chunks, shrimp, and mussels in a creamy or tomato base. The cheese pie uses cheese from Västbotten, and has a unique taste of bitter and salty. The texture is somewhat like Parmesan cheese.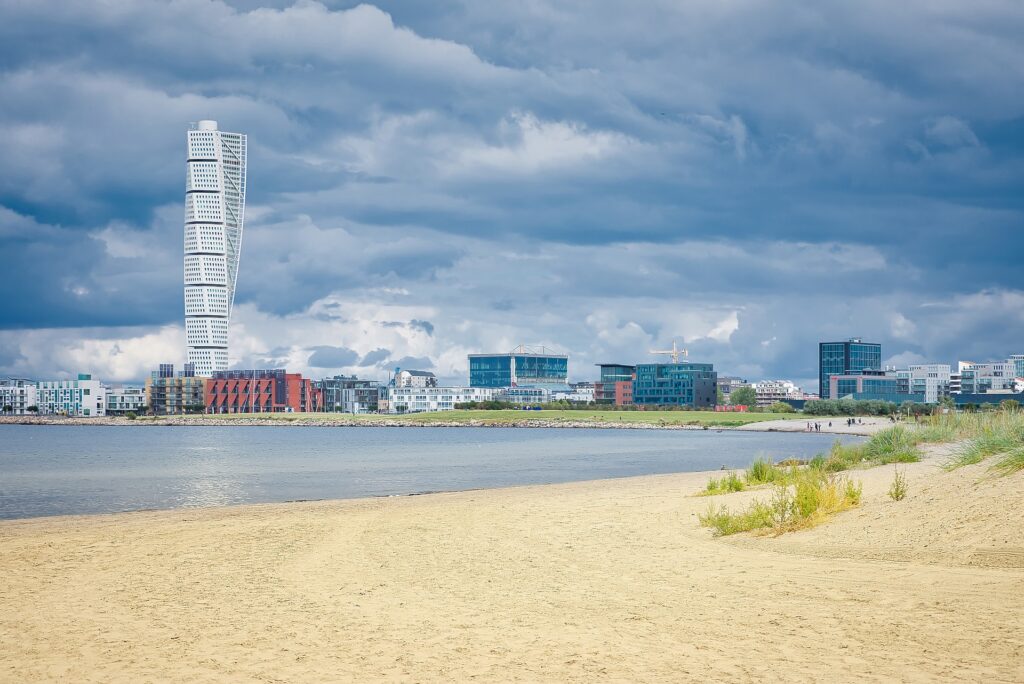 Day 8: Malmö
Just 3 hours away by car or train, you will reach Malmö. Malmö is a vibrant city that is full amazing experiences and food. We'll show you how to make the most of your one day in Malmö and have an unforgettable time in this beautiful city.
The Malmö Castle was built in 1537 on the ruins of an old fort and is the oldest preserved Renaissance castle in Scandinavia. This castle is one of the most iconic landmarks in the city and provides a glimpse into the past when Skåne county was still under Danish control. You can explore the castle's grounds, admire the beautiful views of the city, and learn about it went from a royal castle to a prison.
After visiting the castle, head to the Old Town of Malmö. This stunning part of the city is full of tiny, winding streets, historic buildings, and plenty of sights to see, such as the Town Hall and the King's Park, Kungsparken. You can wander through the streets and enjoy the atmosphere, or stop by one of the many cafes and restaurants to grab a bite to eat.
Leaving the past behind, the Turning Torso is one of the most unique and interesting buildings in the world, and it's a must-visit for anyone in Malmö. This twisting tower is a beautiful example of modern architecture, and what today's engineering is capable of. It was built in 2005 as a neo-futurist residential skyscraper and remained the tallest building in Scandinavia. Unfortunately, it is generally closed to the public, however, you can go up it after buying a ticket during some summer months.
Malmö is known for its beautiful canals, known as Venice of Sweden, and there's no better way to see them than by taking a boat tour. You'll get a chance to see the city from a different perspective and admire its stunning landscape. Plus, you'll learn about the city's history and hear some interesting stories along the way. Of course, you can also rent canoes and paddle at your own pace.
If you have time to spare, it is entirely possible to go across the Öresund bridge and visit Copenhagen, Denmark on a day trip. The bridge itself is also very interesting as half of it goes under the sea.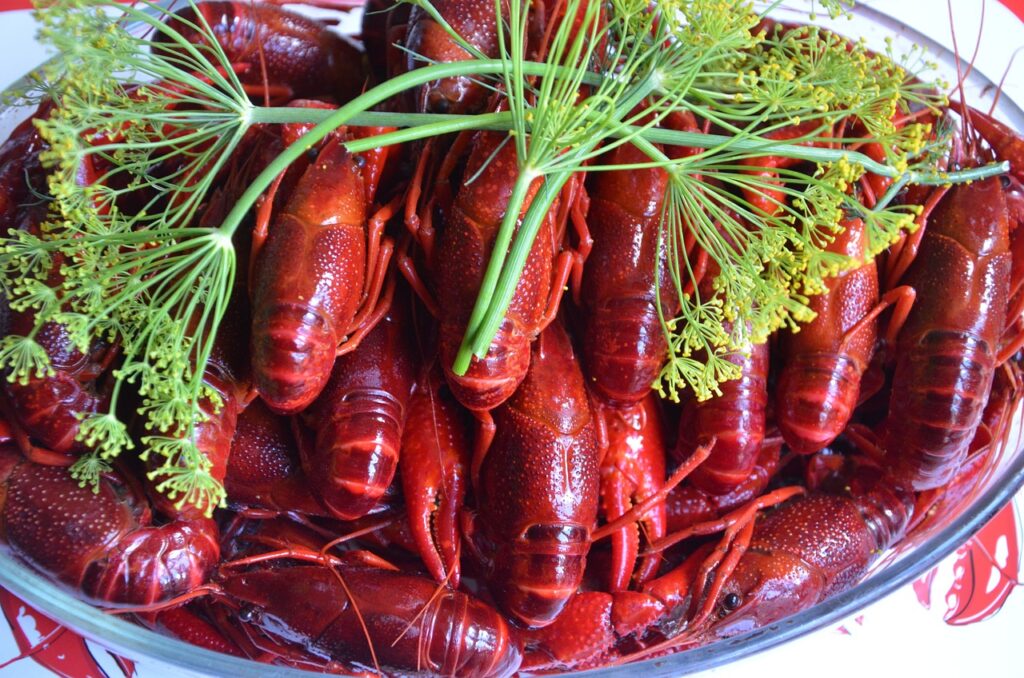 Where to stay
If you don't want to stay in a hotel or Airbnb and want something new, then we recommend bed and breakfasts. They are a great option if you are on a budget and want friendly service. They may be outside the city center, however, they are definitely worth to consider.
What to eat
Try some Raggmunk med fläsk (potato pancake with bacon), kräftor (crayfish) or lobsters if they are in season, and the famous Wallenbergare (boiled veal burger). Malmö is home to a wide range of restaurants, cafes, and bars that offer a variety of cuisines. Whether you're in the mood for seafood, traditional Swedish food, or something more international, you're sure to find something that you love.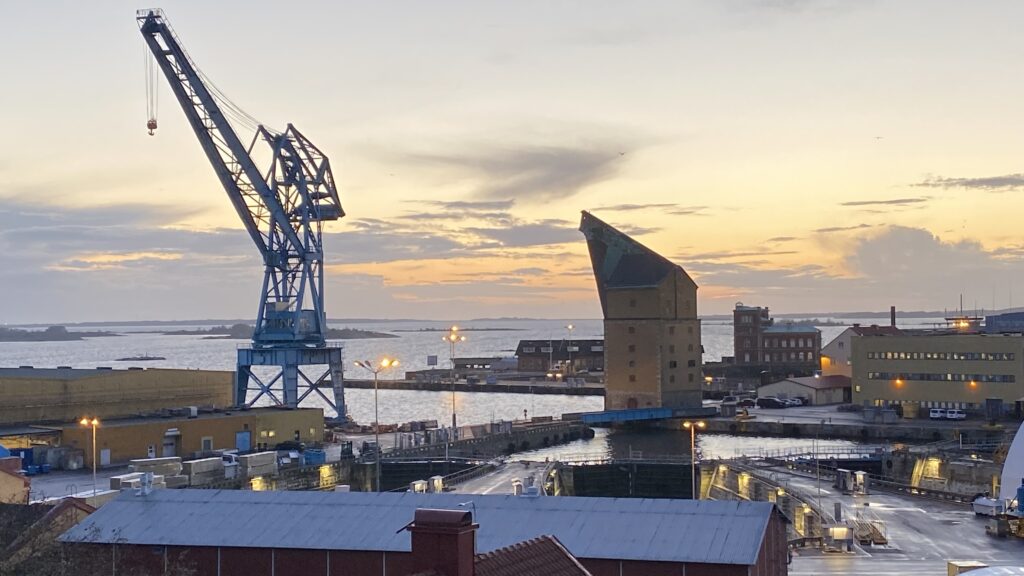 Day 9-10: Karlskrona, Kalmar and Stockholm
From Malmö, it takes about 8 hours back to Stockholm. The last two days are flexible, depending on if you wanted to stay in some places longer, or discover more places on the way back. If you have decided to head back on day 9, then we strongly suggest you to stop by Karlskrona and Kalmar.
Day 9:
Karlskrona is often overlooked naval city. If we haven't gone there ourselves by chance, we wouldn't know how many hidden gems there are. The Naval Museum in Karlskrona is definitely a must visit. It houses a full-sized submarine that you can visit both the outside and inside. Only a handful of museums in world allows you to do so.
There are also about 420 bunkers in Karlskrona. It is because Karlskrona is a naval city, and lots of the bunkers were built during World War 2 and the Cold War. To visit some of the bunkers and even have a lovely dinner in them, you will need a guide.
If you want to go on an adventure, then Karlskrona is a kayaking paradise! The many islands you can kayak through out in the sea is absolutely amazing. Each island has its own story, so we suggest to pack a picnic and snacks and go on some of the islands during your journey. However, you need to have some experience kayaking before, as some of the routes are not for beginners.
Stay in one of the colorful wooden houses next to the sea. The houses on Björkholmen are tiny for a reason. There was a shortage of wood in the past, and no new houses were built. However, the port became busier and the influx of shipyard workers have nowhere to stay. So, they instead smuggled pieces of wood to build the tiny houses for themselves. Of course, you need to contact a local guide to book a tour or overnight stays
Day 10:
One of Kalmar's most popular attractions is the Kalmar Castle, a stunning medieval fortress that dates back to the early 17th century. The castle has been restored to its former glory, and visitors can explore the castle's many rooms and halls, learn about its history defending the region against pirates, and admire the stunning views from its towers. It is also where the formation of the Kalmar Union in 1397 in which Sweden, Norway and Denmark were members took place.
Kalmar Cathedral is another famous attraction in the city, and it is considered one of Sweden's most beautiful churches. The cathedral is known for being one of the foremost examples of classical baroque architecture.
Then it is time to head back to Stockholm and spend some time there before your flight.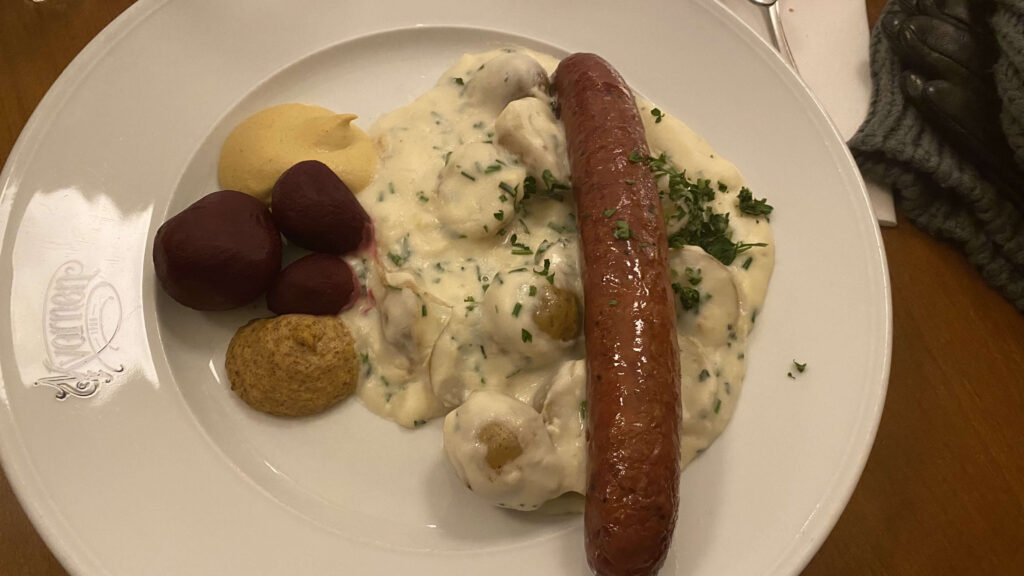 Where to stay
As mentioned above, you can stay in a tiny house on Björkholmen, or find a countryside hotel/farmstay nearby. There are limited hotels in Karlskrona and Kalmar, however, we suggest you to instead stay in the countryside, be surrounded by nature, and get to know the locals better.
What to eat
Isterband sausage, Palt (boiled potato dumpling), Ärtsoppa (pea soup) are some of the most popular dishes in the region. Unlike any other sausage, Isterband sausage is soft and melts in your mouth. Palt is very local and tradtional. There are many variations of Palt depending on the filling, however, usually it is pork or some other meat. The pea soup is a staple Swedish comfort dish, so you will more likely to find it in cafes rathe rather than fancy restaurants.