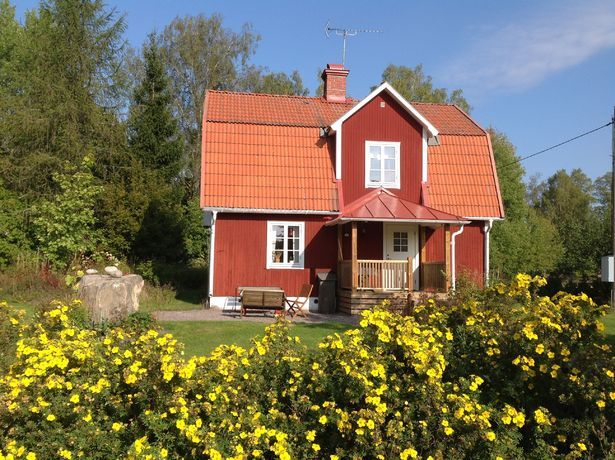 When most people think of getting away, they think of escaping to the countryside. And because of Sweden's various beautiful sceneries and archipelagos, many chooses to relax in the rural parts of the country. There's nothing like renting a summer house and sitting on the porch to watch the sunset over the quiet blue lakes, or peeking into the forest hearing nothing except for the rustling leaves and howling wind.
Sweden is a haven for nature holidays. You can often find your dream house right by the lake, or in a forest, and not far from the city. Of course, there will be plenty of activities and attractions nearby.
You can find and rent summer cabins, cottages and houses all over Sweden on Farmstaysweden. Below are just some of our featured listings, but you can find more by clicking of the region you are interested in at the bottom of the page.

1. Kalvshult Gård
Take a break to the picturesque Kalvshult on the shores of lake Örsjön. They have 6 different cabins and houses for you to choose from, as well as a farm apartment. All located near lake Örsjön for fishing and swimming. A boat can be provided. The surrounding area has beautiful cycling routes, as well as huge woodland and hiking places where you can enjoy the calm and silence with the view of the woods and the lake. The closest attraction is the IKEA museum, where the first IKEA was built. There is also game fishing, and Carl Linnaeus' (the "father of modern taxonomy") birthplace nearby.

2. Jan Ersgården
Welcome to Huddunge, where you will find plenty of nature and culture. Stay in one of the two beautiful, comfortable, and completely furnished houses. Both have high-speed fiber internet access, so you wouldn't have to worry about "dropping off-the-grid". "Gårdshuset" has five bedrooms, total of 8 + 2 beds. "Sörbohuset" is 400m from the farm and has three bedrooms with six beds. You can rent bicycles and boats from the farm. "Grådsjö Moose Park", "Sala silver mine", and other attractions are a short drive away. The farm is only 55km from Uppsala and Stockholm is 122km away.

3. Bäck Gård
A well-furnished summer, or even winter, house with a private garden! Perfect for families wanting to get away from the city. The Wi-Fi signal reaches the whole property and you can buy breakfast beforehand, which may be stored in the refrigerator when you arrive. Sleeps up to 4+2 with extra beds. To protect the environment, we have garbage sorting and heat composting. Within 35km, there are the Isaberg slalom ski slope, six golf courses, and the Elmia trade fair. The cattle keeps the surroundings cleared, so here with us, you get to experience nature and enjoy the silence!

4. Malsbogård
Welcome to Malsbogård, dating back to 1765. There they breed both beef cattle and sheep. Stay at one of the houses surrounded by beautiful environment. Here you can swim and in Lake Stormalen, you can also rent a boat from the farm. The Isaberg ski resort is only 15km away, golf courses are 20km away, water skiing is 10km away, and there are several cycling and walking routes. "Lillstugan 1 and 2" both has two bedrooms, one with a double bed and the other with a bunk bed. For small children, there is also a portable bed. In "Lillstugan 2", there is also a bed sofa for two more people in the living area.

5. Hämmens Gård
Go on a relaxing countryside vacation on the Swedish west coast close to Lake Bullaren in a culturally and historically significant setting. Newly constructed summer houses with fully equipped kitchens. Both has room for 4+2 people. Breakfast is kept in the refrigerator, and food service is possible through arrangement. Spacious garden and veranda for fun and games. Enjoy the farm's berries, as well as canoe and bicycle rentals are available. "Strömstad/Koster" is 20km and "Tanumshede" is 25km away, where you can explore World Heritage rock sculptures and golf courses.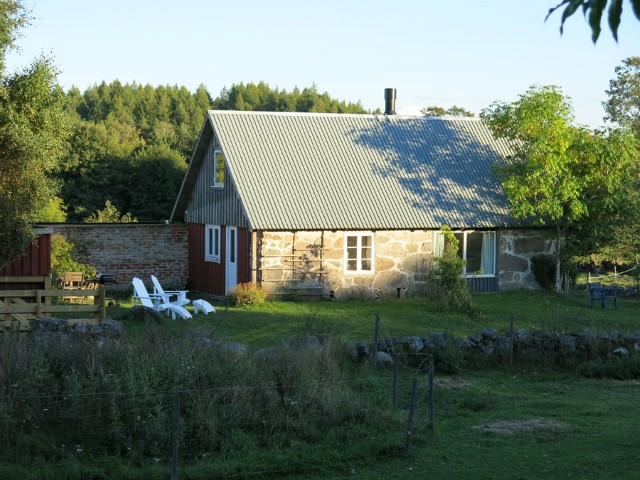 6. Körsbärsgården
Rent a classic stone summer house (Undantaget) built in the 1700s and is one of the oldest buildings on the farm. It is self-catered modernized house with its own terrace and grill. You can sleep comfortably hearing nature sounds and have views of the horses and sheep. You will also find lilac, honeysuckle, and cherry trees nearby. In total there are four regular beds and two additional couch beds. In the house next door, there is a shared sauna, a kitchen with fridge and freezer, a bathroom with shower, a stove, and some firewood. There are arrangements for you to bring your own horse! Dogs are also welcomed!

7. Ottos Gård
If you are traveling to south Dalarna, then you should stay on Ottos farm, where you will discover magnificent red-and-white dairy cows and calves wondering in the fields. Enjoy the tranquil and authentic "Grandma's summer place", which has been recently renovated. Bed linen are available at an extra cost. "Rappens", the latest addition, is located 100m from the farm on a private property. The home contains three bedrooms with six beds, a living area, a kitchen with a dishwasher, and a private yard with a BBQ grill. You can walk, swim, and fish in the village, a popular spot is Lake Amungen.

8. Bottnansmåla Gård
Bottnansmla Gård has been owned and operated by the same family since 1730. The farm, surrounded by woodland, meadows, and pastures, provides a peaceful rural experience. Throughout the year, you could see fallow deer outside your window. The house has been renovated and the owners are currently laying out a kitchen garden in front. Roses and lavender are currently growing just around the corner of the house, creating a blooming landscape. The well-furnished house is a massive 100m2 with space for up to 8 guests and has a large patio on two sides.

9. Fölshults Gård
If you are looking for a genuine picturesque 19th-century dwelling, you should book Kalles house, "Enganäs", in Fölshult. Quiet and secluded with its own garden 400m from the main farm. Farm animals roam around, and endless woodland and gravel roads for biking and nature walks. The two-story house fits up to 7 people with the two bedrooms, double bed and 2 single beds, upstairs and all the living space downstairs, including hall, kitchen, dining room, living room, bathroom with shower and a porch. The couch can be pulled out into a comfortable double bed. You can also pet and groom the horses on the farm!

10. Djupviks Gård
Looking for more cozy summer houses? Maybe just for a couple, or small family or group? Then Djupviks is perfect for you. Tranquil and quiet, only 90 minutes from Stockholm and only 15 minutes from Sweden's largest wildlife park, Kolmården. Enjoy the cozy beach or jump into the water from the jetty on the sunny side of lake Bråviken. Relax and watch the sunset over the water after a long hike in the forest. "Boden" house is suitable for 4+2 adults and "Gunvors" is a bit smaller for up to 4 people, but better for just a couple.

11. Ribbingstorp Gård
This country summer home dates back to the 16th century. The two-storey modernized house has 4+2 beds, bathroom with shower, washing machine, dishwasher, tiled oven, and wood stove. There is a slightly steep staircase, but a child gate is available. Located at the edge of the forest with its own backyard and barbecue area. Guest also has access to an indoor pool in one of the side buildings in the courtyard during certain times. On the farm, there is also a small country-style Bed & Breakfast with four double rooms, each with a bathroom with shower and a TV. Closest city is Gotheburg, which is about 95km away.
More summer houses in different regions